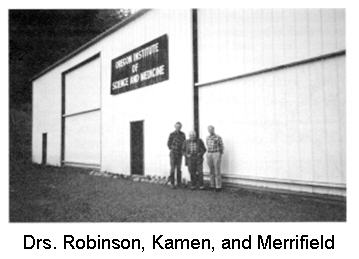 The Oregon Institute of Science and Medicine is a non-profit research institute established in 1980 to conduct basic and applied research in subjects immediately applicable to increasing the quality, quantity, and length of human life. Research in the Institute's laboratories includes work in protein biochemistry, diagnostic medicine, nutrition, preventive medicine, and aging. The Institute also carries out work on the improvement of basic education and emergency preparedness.
The Institute is entirely supported by donations and grants from private individuals and foundations and by the independent earnings and resources of its faculty and volunteers. It does not solicit or accept tax-financed government funds. The Institute has a modest endowment, no debts, and a policy of incurring none. It is classified by the IRS as a 501(c)3 public foundation.
The Institute currently has six faculty members, several regular volunteers, and a larger number of other volunteers who work on occasional projects. Most of the Institute's work is carried out in a modern 7,000 square foot research laboratory, which includes a full complement of equipment for work in biochemistry and molecular biology and some specialized equipment including a Bruker ion cyclotron resonance Fourier transform mass spectrometer for work on protein deamidation.
Current projects include work on the deamidation of peptides and proteins as it relates to fundamental biochemistry and to protein aggregation diseases such as Parkinson's disease and Alzheimer's disease; research on improved techniques for medical diagnosis; improvement in precollege education curricula, especially in the sciences; and improved civilian emergency preparedness.
Several members of the Institute's staff are also well known for their work on the Petition Project, an undertaking that has obtained the signatures of more than 31,000 American scientists opposed, on scientific grounds, to the hypothesis of "human-caused global warming" and to concomitant proposals for world-wide energy taxation and rationing. The Petition Project does not utilize any Oregon Institute of Science and Medicine resources or funds. It also has no funding from energy industries or other parties with special interests in the "global warming" debate. Funding for the project comes entirely from private donations by interested individuals, primarily readers of the newsletter Access to Energy that is independently published.